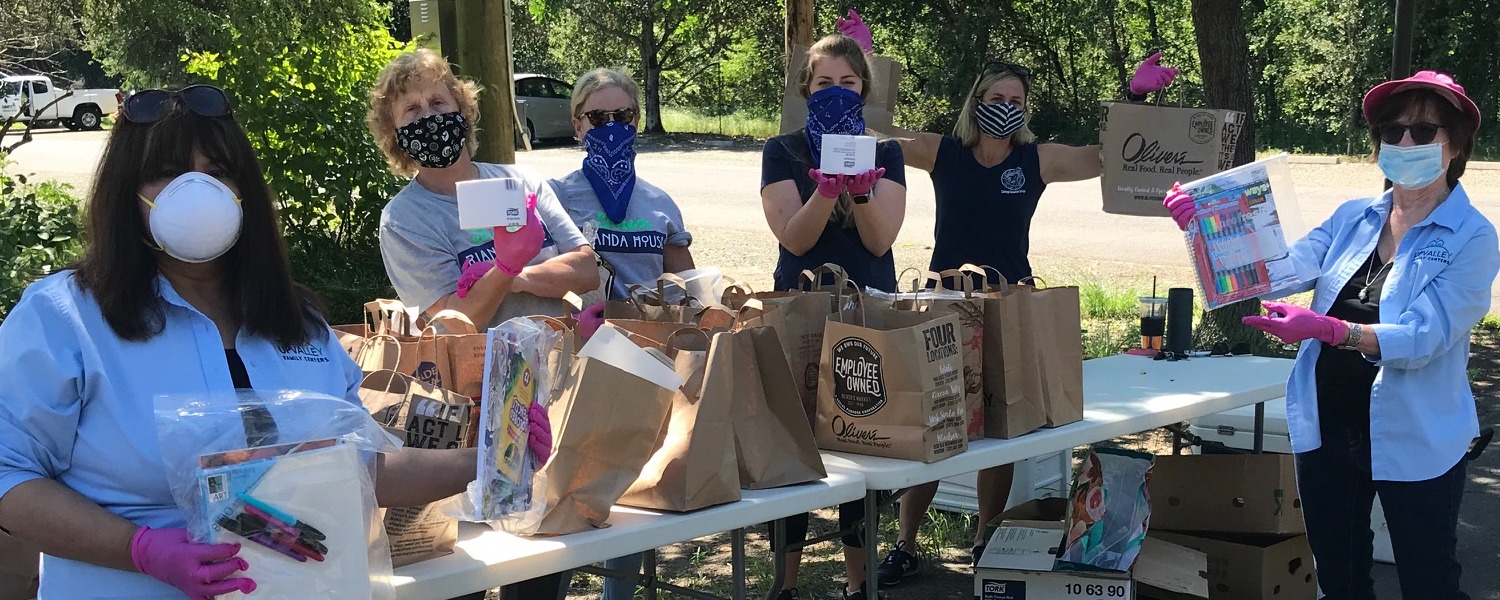 Lunch, activities, and connection
Many seniors live alone and have experienced increased isolation due to COVID-19. During the past months, local organizations and individuals have taken meaningful steps to connect with seniors in healthy and safe ways. The UpValley Family Centers, together with Rianda House Senior Activity Center and the City of Calistoga Parks and Recreation Department, adjusted formerly in-person programming to a drive through experience - in order to continue reaching 38 seniors with "Lunch and Learn" offerings. Care packages include lunch, an activity, and a prized roll of toilet paper! Some care packages are also being delivered directly to homes. Adventist Health St. Helena generously supports Lunch and Learn offerings throughout the year.
This month we were also pleased to partner with La Prima Pizza and V. Sattui Winery in delivering donated lunches to the residents of Calistoga's mobile home parks and senior apartments. Read more about this recent collaborative effort.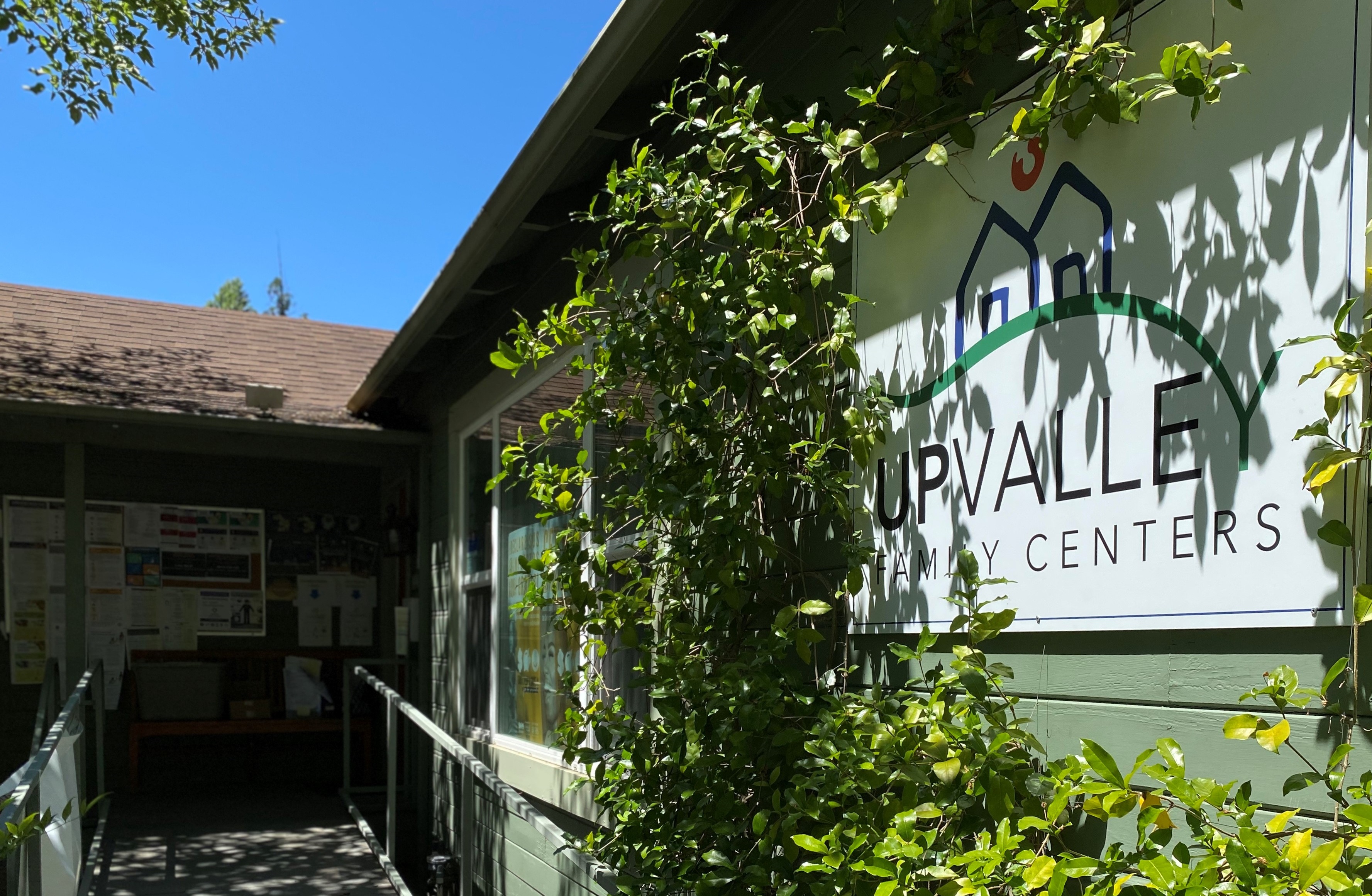 Client services
UpValley Family Centers continues to observe COVID-19 safety precautions. In June, we will begin scheduling limited in person client appointments at our offices, and only as needed, for case management, tax preparation, and immigration services. We will strictly implement health and safety guidelines that will include pre-screening all staff and clients for COVID-19 symptoms, regular cleaning and disinfecting of our offices and equipment, use of face coverings, and social distancing. At this time, in person groups and classes remain cancelled. The majority of our services are provided over the phone or via web-based platforms. For questions about our services, please call our main office: (707) 965-5010 or email info@upvalleyfamilycenters.org.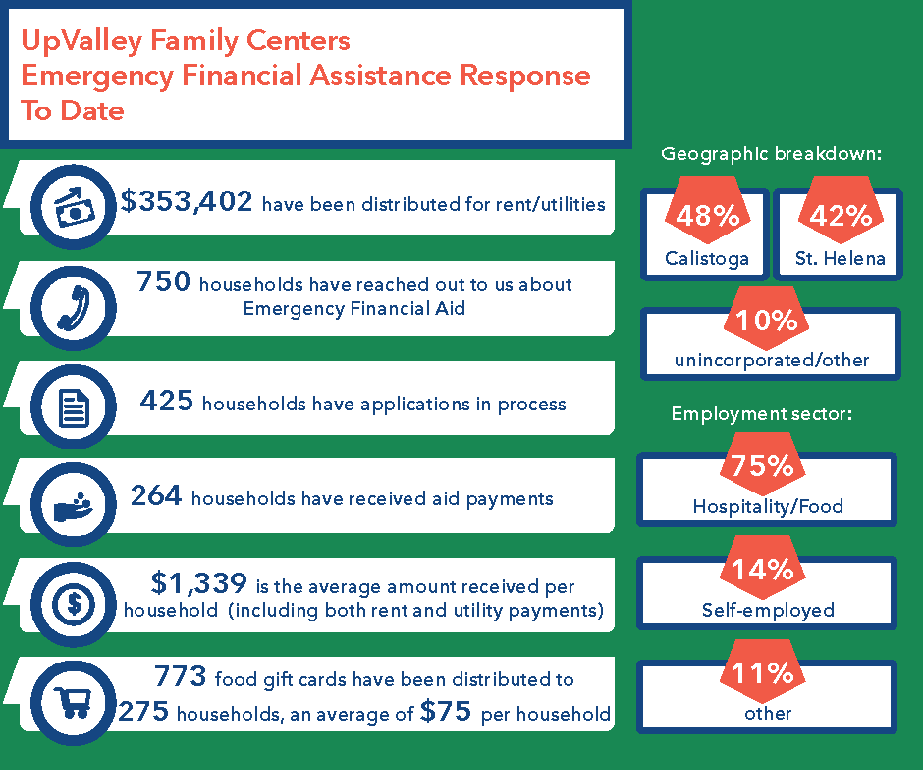 Our response to impacted families
As second responders in this COVID-19 pandemic, UpValley Family Centers' team of experienced, bilingual case managers are continuing to assist local families who are facing deep financial hardship as a result of the crisis. Though Napa County is gradually easing restrictions on local businesses, many people don't know when - or even if - they'll be able to return to work, and now face a third month of rent and utilities to pay without a source of income. In addition to direct financial aid and grocery gift cards, our case managers are also connecting households with other sources of financial support, food distributions in the community, mental health supports, and other vital resources.
This work is supported by a grant from the COVID-19 Response Fund, part of the Napa Valley Community Disaster Relief Fund, which is managed by Napa Valley Community Foundation and was created with a lead gift from Napa Valley Vintners followed by the 2014 Napa Earthquake. Additional supporters include the City of Calistoga, United Way Bay Area, Adventist Health, Rotary Club of Calistoga, and other generous individuals, service clubs, and corporations.